Astrobiology Academy
The UK Centre for Astrobiology delivers a number of outreach programmes from prisons to schools.
Life Beyond - From Prison to Space
Life Beyond is an initiative of the UK Centre for Astrobiology to take astrobiology into the prison environment. The program engages prisoners in the design of stations for the Moon and Mars. The programme began in 2016. In 2018, prisoners published their first book and their second book in 2020.
Life Beyond was designed to take prisoners beyond learning new information, to involve them in entirely original research and development of settlements beyond the Earth. From behind the confines of a prison, you can help direct humanity to the stars.
The purpose of Life Beyond is to:
1) Enrich the lives of those serving prison terms by providing an engaging opportunity to consider the future of humanity beyond the Earth and diectly contribute to it. The books produced by the prisoners are sent to space agencies and scientists around the world.
2) Augment and advance education in prisons and contribute to the diversity of education on offer.
3) Encourage prisoners to develop capacities in science education, creative writing, numeracy and literary skills.
In 2018, prisoners from Her Majesty's Prison (HMP) Glenochil and Edinburgh published their first book on station designs for the surface of Mars. You can obtain a copy of the book here.
In 2020, prisoners from Her Majesty's Prison (HMP) Glenochil published their second book on station designs for the surface of the Moon. You can obtain a copy of the book here.
Further information and a summary of the programme can be found in this paper. We have also published a paper in the Journal of Correction Education explaining this prject. 

Astrobiology Academy - Teacher Training and Lesson Plans for Schools
The Astrobiology Academy developed by the Centre offers Continuing Professional Development for primary and secondary schools across the UK. Since 2013 we have held residential CPD events in Edinburgh and CPD events in conjunction with the National Space Centre. Through these events we develop lesson plans and curriculum materials for schools, which can be downloaded and used by anyone interested in teaching astrobiology at primary or secondary school level. The Academy has also developed the 'Astrobiology in a Box' resource.
Most recently, the UKCA has worked with the Scottish RAISE (Raising Aspirations in Science Education) programme to develop a transition programme for primary to secondary schools in Scotland.  This programme was implemented in 2018/2019.
Lesson plans and curriculum materials developed by the UKCA.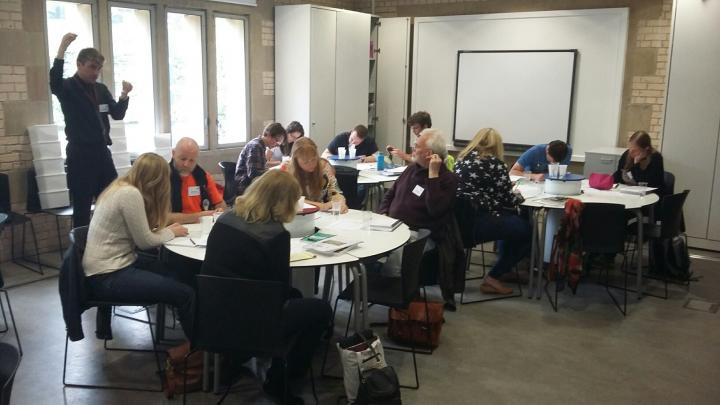 Public Talks and Activities with Schools
Many of the centre's researchers are STEM Ambassadors and are happy to work with schools to deliver talks or workshops. We also regularly give public talks and attend public events to promote astrobiology, including at Café Scientifique, Skeptics in the Pub, and many others. 
This article was published on