Outreach
The UK Centre for Astrobiology delivers a number of outreach programmes.
Astrobiology Academy - Teacher Training and Lesson Plans for Schools
The Astrobiology Academy developed by the Centre offers Continuing Professional Development for primary and secondary schools across the UK. Since 2013 we have held residential CPD events in Edinburgh and CPD events in conjunction with the National Space Centre. Through these events we develop lesson plans and curriculum materials for schools, which can be downloaded and used by anyone interested in teaching astrobiology at primary or secondary school level. The Academy has also developed the 'Astrobiology in a Box' resource.
Lesson plans and curriculum materials developed by the UKCA.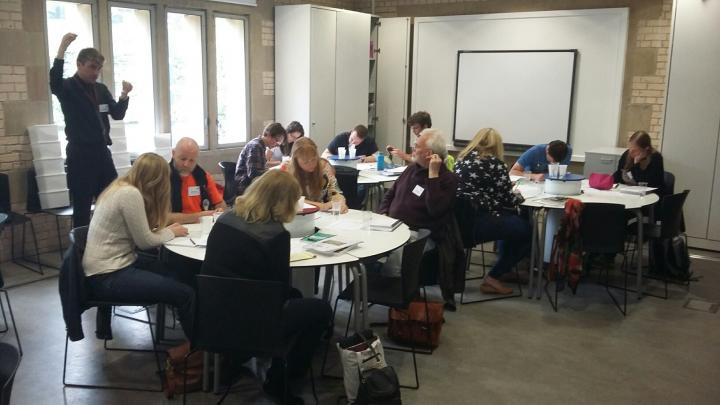 Life Beyond - Astrobiology in Prisons
Life Beyond is an initiative of the UK Centre for Astrobiology to take astrobiology into the prison environment. It began in 2016/early 2017 with a series of visits to prisons in Scotland including HMP Shotts, Edinburgh, Glenochil and Lowmoss.
The programme uses astrobiology to discuss major civilisation-level questions such as how we explore and settle other planets and how we live sustainably on the Earth. Through the subject, inmates take part in thinking about and discussing some of the major challenges and opportunities that our civilisation faces, whilst gaining an opportunity for science education.
The purpose of Life Beyond is to:
1) Enrich the lives of those serving prison terms by providing an engaging opportunity for discussion on some cutting edge questions in science.
2) Augment and advance education in prisons and contribute to the diversity of education on offer.
3) Engage inmates in lectures and inmate-led discussions on the future of civilisation.
4) Encourage inmates to contribute ideas, essays, art and other viewpoints to a future book on human space settlement.

Public Talks and Activities with Schools
Many of the centre's researchers are STEM Ambassadors and are happy to work with schools to deliver talks or workshops. We also regularly give public talks and attend public events to promote astrobiology, including at Café Scientifique, Skeptics in the Pub, and many others. 
This article was published on